ASSEMBLAGE 23
Interview




When did you start making electronic music? Why electronic and not rock or guitar oriented music?
- I started making electronic music when I was about 12 years old. I can't really explain why I was drawn to that kind of music , but it was something that just totally connected with me. I can still remember being at my cousin's house when I was 8 years old the week Gary Numan's "Cars" came out and how much it effected me. Something about those weird sounds I had never heard before fascinated me. When I was in high school I learned to play bass guitar and very basic drums and electric guitar, which I enjoyed, but it was the electronic stuff that was my first love.


Its been hard for you to get signed. Do you have some contacts with labels/people that didn't wanted to release your music few years ago? What do they say now when you are one of the best new names in electro/industrial scene?
- Actually, almost every label I came close to being signed by is gone now, so take that as you will. But, overall, the timing just wasn't right. I was an American electronic act trying to get signed when all the American labels wanted were NIN and Ministry clones... that sort of glorified heavy metal. Fortunately, the tides shifted a bit.


Do you have some hidden wishes or dreams to work with some bands, producers?
- I'm not one for collaboration in general, but I would have to say that I would love to have an album produced by Gareth Jones and Flood. They do amazing work.




How do you see electronic scene in USA today?
- As far as bands go, it seems the healthiest it has ever been. New American electronic acts are popping up all over the place, and this type of music is finally getting the attention and club-play it deserves.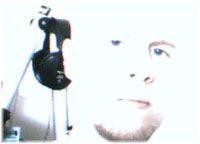 Who is the most interesting new band that you heard in last years or recently?
- Without a doubt Red Sparrow. You might recall this guy as having done a remix for haujobb in the past... but he is phenomenally talented and I am convinced he is going to go on to great things. He just did a remix for me of "King of Insects" that made my jaw drop. His original stuff is sort of a combination of haujobb and Beefcake, with spoken word bits over top. Great, great stuff.


Anything from the commercial bands/music that you like?
- Absolutely. I thought the last Sade album was brilliant. I like the new Missy Elliott album a lot... those are the first two that come to mind... I am sure I have just shocked the hell out of your readers now... haha


Have you seen any good movies lately?
- It's a kids movie, but I enjoyed 'Shrek' quite a bit. Haven't been to too many movies in the theatre recently, but I've been wearing out my DVD player with 'O Brother Where Art Thou?' and 'Best in Show'.
- How do you decide what production and remix projects to take on?

- It mainly comes down to if I have the time to fit it into my schedule, and if the band is willing to fill my fee. That's really all it comes down to.


Do you have a favorite piece of equipment?
- My computer. I don't know how I ever did things any differently before, but since I switched over to sequencing and recording on my computer, it has made all the difference in the world.


Do you have some new piece of equipment that you got recently?
- I explanded my studio quite a bit after 'Contempt', but really the only new thing I've picked up in the past year or so is the Roland XV-3080... I wanted something more digital sounding to round out my set-up, and also needed something good for the soundtrack I am working on, and it fit the bill nicely.




Where was your favorite live show?
- That's hard to say, as we've had some really fun experiences. I'd probably say our show earlier this year in San Francisco was about the most fun I've had at a show in a long time. Great crowd!


Usually, what parts of a song do you come up with first?
- It's different every time. There's no set way of doing things... however it happens, I just follow.


What's your favorite A23 song?
- I couldn't pick a favorite. They all mean something to me on one level or the other.




New album Failure is very emotional and deep album? How do you get your inspiration?
- Just experiences I have in my personal life... or things I observe or think about. It's all very personal.


Do you have some plans to use guest vocals on any future songs?
- No


Can we expect any projects in the future besides Assemblage 23?
- As I said, I am working on a soundtrack for an independent film right now. It's nothing like A23, but rather more traditional film score type stuff. I will do other stuff as well, but A23 really eats up most of my time.

What's your occupation this days?
- Musician! I quit my day job a year ago.

Any plans for European tour or concerts, maybe some festivals?
- We are doing a month long tour of Europe in November/December. We do hope to make it to some of the festivals next year though. I would love to play for a crowd that big.








Thanx for your time.
- Thanks for taking the time to interview me, and thanks to all the fans... -t/a23

ASSEMBLAGE 23 - Official Website





Interview made in June 2001. by Danijel Levatic for Elektronski Zvuk.

2001. Elektronski Zvuk