CeDigest
Interview

We Will Walk In The Rhythm and Flesh with CeDigest

After more than 5 years of dark electronic music-making experience with all sorts of genres, and all the praises that they received from all over globe, UK based harsh EBM act CeDigest has been (finally!) signed to BLC Productions after a (too) long demo period and is now getting ready to conquer the world of dark and harsh electronical music !
Seems that we can expect something unique, original, brutal at the very beggining of 2009, when the album 'Walking In The Flesh' will be published via BLC Productions. Let the carnage begin!

First of all, Joss, its a nice thing to interview you ! How have you been recently? How the album production is goin'? When the album is scheduled for release?
Heyhey! I've been good, just moved house to Sheffield, 2 hours away from my hometown. Walking In The Flesh is basically done, just a couple of tweaks needed and it's scheduled to be out January 09 on BLC!
Tell me, how did you get into this kind of music in the first place? Is scene there expanding, shrinking, or is it the same for last ten to fifteen years, there in UK?
Well… I went to a MortIIs gig 5(ish) years ago at the Birmingham Carling Academy. I wasn't there because I was a fan of MortIIs or anything, it was just a random gig I got invited to. However, the opening act, Panic DHH blew me away. I vowed that night I would do what they were doing. Something new, innovative and original, combining organic with man-made machinery. The EBM scene here, however basically never existed. Aside from Alien Vampires, Noctis Null (frontman – Tony Thomas, synth player of CeDigest), Adrenochrome (frontman, Jay Taylor - drummer of Tactical Sekt) and a few others, there are no hard hitters… And most who are into the music and go to gigs/club nights are fucking posers. Music isn't music anymore. Its fashion.
You wanted to be musician from the early ages, or did this simply stroked you all of the sudden? Also, what instruments do you know to play and how good do you play them? Also, is there any other music project besides CeDigest that have been involved in?
I was reared on the nipple of music so to speak. My Mother also loves music, and let me do whatever I wanted to boost my musical 'talents'. I joined Wolverhampton's biggest church choir at the age of 5 and it sort of just progressed from there. I lost my faith and left the choir at 11 and started learning other instruments using my musical knowledge gained from the 6 years before. I played guitar for a while, I got OK at that… Got bored, gave up, then keyboard, got pretty good, bored gave up, then drums… Etc. As for other projects, I've been in so many I cant name them all. However, I'll tell you the most recent one's myspace links!
www.myspace.com/frightnoize - Noisy harsh ebm. www.myspace.com/essteedeemusic - Comedy rap, and that's all I can remember actually. Oh! I'm also going to be guest vocalizing for some friends of mine's projects. www.myspace.com/uzumaki32 and www.myspace.com/sellafield
Ok, tell me now a little more about the CeDigest, who exactly CeDigest is, who are his members, who in CeDigest is responsible for what, when CeDigest was founded, why it was founded and all the other relevant data, please.
CDG is my main musical project and has been for 5 years. I compose all the music myself and play all the instruments in recorded material. As for live shows, I have Valtel aka Tony Thomas (the guy who also made P9, N [R] and Xentrifuge web's and leads Noctis Null) on synths, Benedict and Seth on guitars, and Nexx on bass. The name CeDigest comes from a magazine about Cultural Entomology which is about the way insects affect human cultures. I use it as a metaphor, we are the insects, you are the affected, and my lyrics are the book explaining it all.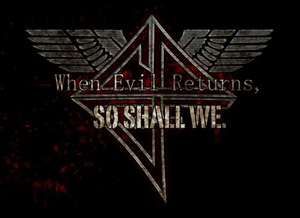 How much the music progressed/changed over the course of years? You told me that for a first year of it's existence CeDigest was pure digital hardcore, then there were some experimentations with harsh EBM + DH, and then full blooded harsh EBM. How the style progressed over the years? What will be the future CeDigest path and where do you see CD for, let's say, three or four years?
You really do your research! Yeah, basically, I self released 3 demos at the same time with an old member, Dian. They were called Colditz, Digital Warfare, and the other one I've completely forgot the name of. These were 3 different demos but all under the same style. One focused on a drum n bassy glitchy style of DH, one focused on a black metal influenced DH, and the other was a club orientated DH. These were forgotten about and anyone who has them now threatens to put them on fileshare websites to embarrass me.
Then came my experimentation with EBM. I think I found Psyclon Nine or someone on myspace and liked their style so I went for an approach like theirs. During that time I got some positive appraisal from none other than Johan Van Roy who I said I'd send a demo to… But never actually did. I'm lazy by the way. Over the years after that I went through phases, going from clubfriendly, to gabber styled harsh ebm, to what you know now as CDG
Lyrically, what is the theme of your work and overall what is the theme of CeDigest? What is the 'storyline' and message behind the music?
Lyrics are very, very important to me. The message behind Walking In The Flesh is actually pretty personal throughout. I touch upon various subjects using metaphors as it feels easier to get it out when I detach myself from it all. There's songs about my childhood, songs about the way my mind works and songs about when I lost my faith and how it all happened. You wont get it without reading PAST the actual words though.
What is the plan with live version of CeDigest? Should we expect a pure sheer brutality or just some dark gothic ambient show? ;) How important is for you to play live? Also, when did you incorporated guitars in the live setting (and also the music), and why?
Fucking BRUTALITY dude, all the way. We don't dress up like trick or treaters on Halloween, we don't paint ourselves, and we certainly don't do the whole 'gasmasks and wires' thing. We don't even dress up… We usually just go on stage wearing what we came to the venue in… Why? Because we don't need to. I feel its better to convey your emotions, not hide behind a mask, makeup, paint… Whatever. If no one can see the real me, how are they supposed to see anything to do with what I'm trying to say?
On to the guitars, I find myself being more influenced by death metal nowadays than most of the recycled shit the industrial scene is churning out – 4/4 dance anthems at 130 bpm with vanguard presets smothering the track and a distorted whisper. Although it is very popular to do it, I just don't agree with just doing the same thing over and over – the reason I love industrial music so much is because its different… But it has developed its own mainstream within itself which does not amuse me. I NEVER wanted to be a clone and I NEVER will be.
Joss, you also have web-based 'label' TriTech records, which owns some respective bands like Sellafield and Dyksick. Why did you found this 'label', what are your goals with this label, what is the plan with it?
TTR is effectively a promotional tool for the bands we have on the roster and we certainly do not own them! Their music gets released digitally at a price we both agree on together and TTR takes only 10% for label expansion. On top of that we send their material off to reviewers and other labels we think would appreciate their style to try and get them furthered in their careers. At the moment the project is null while I work on matters of my own such as the album, moving away from home, and getting a job and decent internet connection. However, when its all sorted I plan on releasing a shed load of music through the label, as Crisis Mode, Noise Program and Harpsichoid have all been on my back about releases and I feel like an asshole for putting them on hold!
OK, tell us little more about the perspective bands from this label ! We are especially interested in the UK based harsh EBM bands. :)
There are all sorts of bands on the label, from IDM, to EBM, to Classical, to Industrial Metal.as for UK Harsh EBM, theres Noctis Null, Rezumaki, and AetherFX which is a collaboration effor between Jake Tugby of Sellafield and myself.
What are good venues and good festival in UK related to this kind of music? Also, any good clubs are anything like it?
I actually don't go out… I'm rather antisocial. I hear Infest is a good festival and as for venues theres Sheffield's Corporation which has been the stage for bands such as Grendel and Rotersand, and London's Slimelight which Suicide Commando amongst others have played at. Valtiel once got warned not to go in Slimelight's toilets by Ner0 of Psyclon Nine… Kinky.
How exactly did you got in contact with BLC productions? Also, will you be published in Europe, since BLC is American label...?
BLC actually got in touch with me! They posted a thread on the Side-Line forum asking for the best unsigned acts and loads of people mentioned us, which got Brandon interested in our sound. He checked us out, liked what he heard and CDG is now honoured to be under the flag of BLC!
Walking In The Flesh will be released worldwide through loads of great distribution services that only BLC could give us the opportunity to use!
I must say that you are one of the rare (now already ex-demo) bands these days that, by posting on other bands myspaces, earned their's trust, and by this you were able to talk into few big names on the scene (Panic Lift, Die Sektor, Hexen Prozess, genCAB etc) to remix for you. How much all this social networking thing (myspace, trig, facebook) which is pretty big last few years helped you and bands like yours in promotion?
Man, these guys are great, and I often talk to them on AIM. I am friendly and I like to try and talk to everyone, especially those who I respect so strongly for their music. Die Sektor especially have influenced me for years now and to have the opportunity to have them remix my music means a lot to me – as do the other band's remixes you mention. I originally talked to PL every so often and I actually think I got Jimmy in trouble a while back when he signed to NoiTekk and wasn't supposed to put it on his myspace yet… I congratulated him in a myspace comment and he was like 'shhhhh! No ones supposed to know yet!'
Sheridan from HP is very much like me in a lot of respects so we get along well. We both turned 18 recently, both just finished college, so we're going through the same sort of things at the moment.
And Dutton from the CAB is a funny fucker and if it wasn't for him and Jimmy mentioning me on the Side-Line thread I just mentioned, I probably wouldn't have been approached by BLC. So yeah, theyre a good 60-70% responsible for that!
Your musical output hardly can be tagged as "easy listenable", 'cause all this death metal, gabber, powernoise influence you incorporated has produced something quite unique, as we can hear from the material on myspace. What can we expect from album?
The album won't be a 40 min ode to dance music, that's for sure. I want this album to disgust. I want this album to confuse. I want it to be MY album, not any one else's regurgitated stylings. I wont go too into it, but EVERY track on this album is different.
What is your sincere and honest look on today's harsh EBM scene? Its not "milk and honey" situation much – what's wrong in your opinion?
I'll tell you a little story which pretty much sums it up. Me and the band were playing a show in our hometown and it was not well promoted, so at the last minute I decided that we should go out and try bring in a few people. Walking around town we asked EVERYONE we saw if they'd like to come, explaining that we are essentially an industrial band and we were playing that night at that venue at that time.
One person we went up to was a sure-fire yes. BIG prosthetic dreads, those cy-x goggles everyone loves, bondage gear. We asked her if she'd like to come along and see what the local industrial scene was like. Her answer was simply:
'You're Industrial? You don't look like an Industrial band!' And she just walked off.
Now riddle me this: When did this whole thing become so fucking shallow that the very people who got into it all because it was different have to fucking conform to fit in? I actually hate what this whole scene has become, and I'm a fucking newbie to it!
Tell us little more about your tastes: what kind of movies do you like to watch, what kind of music you like to listen, what kind books do you like to read etc… a little insight into your personal art taste…
I can answer part one and two to that, though part three and four are non-applicable.
I am very inspired by horror movies, especially those that are the works of George A. Romero. Im a zombie FREAK. I can't help it, zombie movies are such a big deal to me, I even have a zombie plan. I've covered everything – including a back up plan if the zombies can run. I figure I can save all the most important people in my life IF they still have the will to live. But yeah, my morbid fascination with horror started as I was only a baby, my Grandmother (RIP) used to look after me when my Mother went to work and I often found myself watching scary movies with her.
As for music, anything that is good, hard, and aggressive. At the moment I'm hooked on Angerfist's Mutilate EP, Cakebuilder's Decks N' Demons Vinyl EP, and Job For A Cowboy's Genesis album.
I'll replace the last two parts with games. Games are way more important than books could ever be, at least you control the ending. Resident Evil and Silent Hill games have always been awesome, ever since I was like… 8 I was playing Resi. I also love games with an original concept. A game I'm playing at the moment called 'Second Sight' for the Ps2 enables you to throw opponents against walls using telekinesis, possess their bodies, shoot energy shit at them, and it's a load of fun.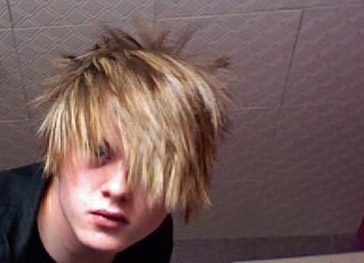 What do you think are prime differences between European, American and Asian scene? It seems to me, for instance, that for Americans Skinny Puppy is industrial, while in Europe people referred to SP as EBM, so my guess is that American perception of EBM is very different from European look on things. Also, seems to me that Mexico holds some obsession with a very weird version of dark electro, which should be called rather dark trance 'cause of trancy melodies and lines that whole Mexican scene is full of.
MEXICANS OWN KICK DRUMS. Amduscia are my favourite EBM act from Mexico. I know they are trancey and God knows how much I complain about 4/4 trance with screaming, but Amduscia do it so well that its blasphemy to complain about it.
I find that the EU scene needs to grow up and stop being so elitist. The Americans have not let the whole 'must stay rivet unt oldskoolen' attitude get in their way and the majority of good EBM is now coming from there. What I mean about the EU scene is most of us over here believe that because Industrial was invented this side of the world, we have to keep it from being tainted and although in some respects that is a good thing, I feel that most industrial acts from the EU wont let themselves explore new territories because its their job to keep it as old school as they can.
It's not very unusual to see brothers and sisters in this scene, so I am wondering – is anyone from your family also by any way connected to this scene?
I'm an only child and the rest of the family are either dead or don't talk to us anymore. I hear my asshole of a dad had some kids with his new wife a few years ago though, so maybe they're in the scene somehow and I don't know yet! If they are, I wish them the best of luck with it, they're gonna need all the luck they can get with a Dad like him.
What would be the ten best electro/industrial acts that still exist and produce? Which bands will – in your opinion – breach the barrier of untried experimentations, cross the invisible margins of genres, and create something totally new, different and unique?
That's so hard to answer to be honest because there are so few breaking barriers nowadays. But in no particular order the ones who stand out for me are: Xentrifuge who are awesome for so many reasons. Panic Lift do the genre bending thing a little too well to the point I get jealous of the song Witness To Our Collapse. GenCAB kicks ass, so different to anyone else out there. Psyclon Nine are good at breaking barriers, as are Die Sektor, as although their debut is very club friendly, theres loads of hidden charms in it that you would never find in any other albums out there. Animassacre are great, beasting out the gabber styles and mixing them with EBM. Hexen Prozess are wicked and I cant wait to hear more of it, the same goes for Encephalon. There are a few more but I have a memory like a dead fish and cant recall them.
What is the best remix you have done so far and on which remixes you are currently working on?
Id have to say my mix of Adam Kult's 'Fuck Them' is pretty sweet. It just won the remix contest so I'm looking forward to appearing on the album. Im not working on any at the moment as all my energies have been focused on getting Walking In The Flesh complete!
How much your production skills have evolved since your beginnings? What musical equipment have you changed during the years? Also, what is your opinion in infinite hardware vs. software discussion?
Damnnnn – older CDG works are produced so badly that it hurts to listen back to. I have Tony[Valtiel] to thank for all my production values getting better as he gave me load of tips. I went from Reason software which was not ideal for what I needed to do. When I switched to Logic Pro 8, everything got so much better – especially my production values. As for Hardware V Software, I use software mostly but I do sometimes use hardware. I really don't mind either, and the fact that people constantly argue over which is better is actually a little… Gay.
Ever been interested into making movie music or anything similar?
I'm actually working on some music for a movie at the moment! It's an independent film about a health drink that turns people into zombies called Health Freaks and I'm pretty excited about it all!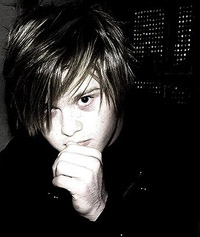 Do you already know who will master your album and do the artwork? Also, do you plan to publish booklets with or without the lyrics?
Im actually not sure who's gonna be mastering it although I'm discussing it with BLC at the moment. The artwork is stunning, and as per usual I have used Carbon Nine (www.carbonnine.com) as he is really great at interpreting the image I want to get across for the album. The lyrics will be in the booklet, at least I think they will. It's a matter of whether they fit or not! I would really like them to be in the booklet, as they are very important.
Your attitude towards piracy?
Piracy is a good promotional tool, although I will probably be pissed if anyone puts my album up for download. The way I think about it is sure, download the album, but if you like it and you think it's worthy of buying, buy it. However – if you download it and then don't like it, don't even bother critiquing it because it was free and you have no right to complain.
Thank you for your time, Joss !
And thank you for the interview mate!
Interview made with Joss Iles aka Avithe in September 2008. by David Kirinic Rodic aka Anthalion for Elektronski Zvuk & ebm-radio.com