THE RETROSIC
Interview

What has been your main influence musicaly, that made you to start The Retrosic?
- There was just a handful of bands that made the soundtrack of my youth. NIN, Marilyn Manson, Wumpscut and The Prodigy. Perhaps all of them are still
recognizable in our music today..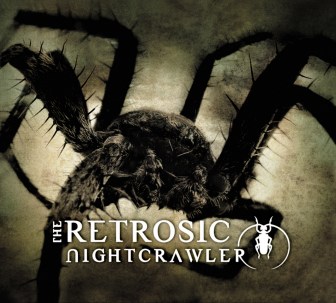 How much is visual identity important for The Retrosic and you?
- Over the years it got more and more important to me. In the meantime graphic design became my profession.
It's not often that bands in this kind of electronic scene make videos. Why did you decide to make new video for track Desperate Youth?
- I'm also working for TV-and film companies, therefore I know the team from the "Desperate Youth" video since a long time now. We worked together on several projects before. It was only a matter of time, till someone came up with the idea to do something the good old fashioned independent way. And so we did the video for "Desperate Youth". Luckily we were able to use HD cinema equipment and together with the crew we shot 3 nights and days in this abandoned bathhouse. Afterwards it took a week to cut and colour grade all material, plus some extra days for additional post production."Desperate Youth" is an anthem about rock'n'roll kids. We all love the attitude of 'live fast and die young'. But if you have the chance to experience it, you will find a lot of white trash and drug addicts at the end of the road. The video shows that point in a metaphorical way. It plays in an asylum where the inmates one by one are getting victims of their own dementia.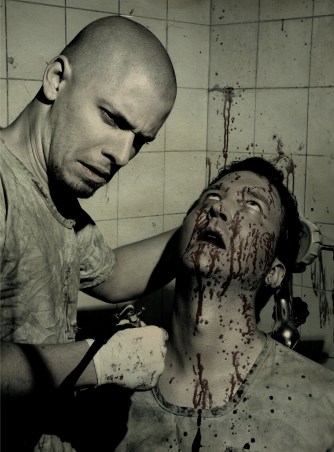 Lot of things changed in music, last couple of years, since you started with The Retrosic. How much did this internet shareing and piracy affected you professionally and personally?
- Tremendous! Meanwhile most of our time and energy goes into the question of financing an album. It really sucks and I'm so sick of it. The music marketis like the arctic. It melts day by day and no one is feeling responsible for it. Please listen, guys: YOU are making Retrosic possible. Spend a few
bucks and buy your CD instead of ripping it. Support your team.
You've been visiting USA recently. How much is club scene different there, than in Germany?
- I had a cool trip with my band mate Fletcher and for real it was a new experience. I've never seen a black DJ wearing hiphop-clothes who is actually spinning our music. It was also crazy to see, that Ground Zero is a big hit over there without getting released there ever.
Are you a movie fan? Have you seen any good movies recently?
- Yep, I am. Every weekend starts with a night at the cinema. The last good films I saw there were Hard Candy and a stupid but very cool and fast movie called Crank.
What's new in your DVD and CD collection?
- Movies: Batman Begins and a really nice Comedy for my taste called Kiss, Kiss, Bang, Bang. Music: IamX - "The Alternative".
If you will play live one day, what can we expect from your performance in a visual way?
- We will see when it gets ready for decision.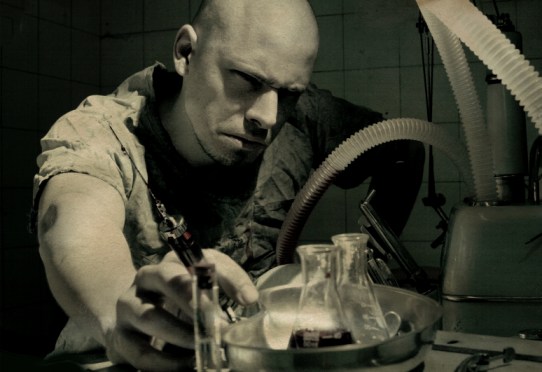 How much are you active and involved in the scene: DJ-ing, remixing, production for someone else??
- Fletcher is a professional DJ and is running a bunch of parties over here. Mostly he is joining me at Retrosic DJ-sets. Otherwise I don't produce other bands and don't remix too much. As said we have a lot of projects running so I have to concentrate on the essentials.
How much is new album Nightcrawler, different (musicaly and production vise) when you compare it with God of hell album??
- Nightcrawler has a totally different approach compared to God of Hell. Our latest album was an opulent anthem for the end time. Nightcrawler in contrast is a trip into the twilight zone of urban civilisation.
Metropolis Records is releasing again your new album in USA. What is your relationship with them and how satisfied are you with promotion work they do over in US there for The Retrosic??
- Good question. I have no idea what they are doing for us over there. But it seams to work. I just saw that "Nightcrawler" is amongst their Top 10 sellers this week.
Do you get lot of fan mail, e-mails, ...? Are your fans mostly from Europe or you get lot of response from USA, ...?
- Tons of emails for being honest. And I have to say thank you for each of them. However I'm very sorry for not being able to answer on everyone.
Did anyone approach you from movie industry and wanted to talk to you about some soundtracks or using your music in movies?
- Unfortunately not until now.
Tribune Records is a home only for The Retrosic. Is there chance to release some other bands on your record label? I heard there some plans exist for 2007.
- Indeed we want to get some careers started. We already did, as we recommended some newcomers to labels we know. But times are hard for newcomers. Actually the labels have no money to promote them. So we are thinking about helping others to get their bands heard from others.
Cyrus, thanx very much for your time and best wishes with Nightcrawler and the future of The Retrosic.
- Thank you, too!
Interview made with Cyus in November 2006. by Danijel Levatic for Elektronski Zvuk.